Welcome to Raintree Medical and Chiropractic Center in Lee's Summit, MO
Can you take a guess at what the 5 most dangerous words are when it comes to your health and wellness?
"Maybe it will go away."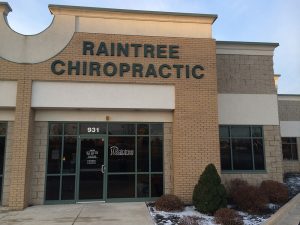 At Raintree Medical and Chiropractic Center, we see time and again the results of someone trying to ignore pain or other symptoms indicating some kind of malfunction within the body.  It can be sad – and even heartbreaking – to see someone suffering from chronic pain. Or someone might come in with a degenerative condition of the spine thought to just be the natural effects of aging. And if they would have come in sooner, we might have helped relieve their pain and prevented further degeneration.
If this sounds familiar, it's time to take charge of your health – you don't have to live with chronic pain!
More Than Just Pain Relief
Comprehensive chiropractic care doesn't stop with pain relief. A Doctor of Chiropractic is trained in diagnosing and treating neuromusculoskeletal system problems, just like a medical doctor is trained in diagnosing and treating disease. The Doctors at Raintree Medical and Chiropractic Center, Dr. Ben Fluegge, DC and Dr. Jennifer Brill, DC, are some of the best chiropractors in Lee's Summit, committed to providing pain relief for many symptoms and conditions so that you can have a higher quality of life.  They are also trained in preventing diseases and disorders before they ever start through attention to wellness that includes a healthy lifestyle and exercise regime, maintaining proper alignment of the spine, and balanced nutrition.
Most importantly, our doctors don't believe in a one-size-fits-all approach. We are genuinely concerned about the total health and well-being of each of our patients, and we work closely with you to accurately diagnose your symptoms and create a custom treatment plan based on your unique health needs.
Lee's Summit Chiropractic Office Services
Spinal Adjustments & Manipulations
You may or may not have an image in mind of what an adjustment of the spine looks like. Our Lee's Summit chiropractors are skilled in the latest and state of the art chiropractic adjustment techniques.
But did you know that, left untreated for years, subluxations of the spine can actually compromise the nerve space and lead to degeneration of the discs within the back?  In this state, no one can experience optimal wellness.
Regular spinal adjustments are helpful for every member of the family, and techniques used at Raintree Medical and Chiropractic Center are specific and appropriate for each person, their age, and condition. Anyone from an infant to a pregnant woman to a senior citizen can experience the optimized health and wellness of being evaluated and adjusted by our experienced chiropractors.
Additional Services Include:
•    Spinal Decompression
•    Cold Laser Therapy , Microcurrent Therapy and Electrical Muscle Stimulation
•    Massage Therapy
•    Ultrasound and X-Ray
•    Sports Therapy
•    Workers Compensation and Physical Therapy
•    Pediatric Care
•    Prenatal Care
•    Yoga Classes
•    Therapeutic Exercise
Call your local Raintree Medical and Chiropractic Center chiropractor in Lee's Summit today at  816-623-3020  to schedule your first visit and get on the road to feeling better and living healthier.