Children who participate in organized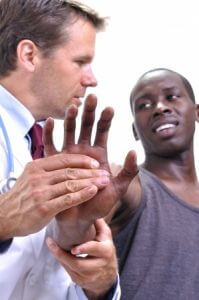 sports at very early ages realize the physical, social, and emotional benefits of playing sports; however, this is also the very same time their musculoskeletal and nervous system are developing, which puts them at risk of traumatic injury.
Recent studies have shown that chiropractic care may help athletic kids avoid injury and increase their athleticism.
Why The Chiropractic Approach Helps Young Athletes
Chiropractic is gaining ground as a method of treating childhood ailments such as asthma, headaches, ear infections, allergies, and even bedwetting. For young athletes, chiropractic care is not an after-the-fact response to injury, but is an important way to offer the body conditioning needed to prevent injuries off and on the field. Chiropractors promote proper warm-up, stretching, and strength training exercises in the context of a healthy lifestyle grounded on proper nutrition and hydration.
As Dr. Timothy Ray, who serves on the American Chiropractic Associations Council on Sports Injury and Physical Fitness, puts it, "The majority, if not all, sports are good, provided that the child prepares appropriately. Without proper preparation, any sport can turn into a bad experience. There are structural and physical development issues that need to be taken into consideration before children undertake certain sports."
Whether your child is playing T-ball with a small group of friends, taking ice-skating or golf lessons, starting gymnastics, wrestling, baseball, or football, it is important to help them prepare their bodies with proper conditioning techniques. Spinal injuries can occur in noncontact sports such as competitive cheerleading and gymnastics as well as in contact sports such as martial arts or football. A good pediatric chiropractor should be knowledgeable in the sport your child plays.
Bone Formation And Sports
In humans, bone tissue formation occurs before birth, throughout childhood, and into the 20s.
Before birth. Primary ossification occurs as the vertebrae and the neural arch form.
Birth- 5. Secondary ossification leads the way for more bone growth.
5-12 girls, 5-14 boys. The bones continue to grow and harden.
17-20. The bones in the upper limbs and shoulders are completely ossified.
17-23. The bones of the sternum, clavicles, and vertebrae complete ossification.
By age 25. The bones reach their growth potential and proper fusion.
Sports injuries can impede the proper fusion, although healthy, developing spines can heal past many injuries. Head injuries, landing on the feet or sacrum, breaking bones, and twisting limbs result in 2.6 million sports related visits to the ER among children or young adults every year, while many sports injuries aren't even reported.
Taking your children to a chiropractor for an evaluation of their spine, limbs, and feet while they're healthy allows the doctor to make sure sports have not already taken a toll on the developing spine. The chiropractor can also offer suggestions for staying injury free with a combination of exercise, protective equipment, warm-ups, and a healthy lifestyle.
Take Your Young Athlete To Raintree Medical And Chiropractic Center
When you have young athletes in your home, Raintree Medical & Chiropractic Center can make sure that sports injuries do not interfere with proper bone growth. Contact Raintree Medical & Chiropractic Center today at 816-623-3020. You can also request a convenient appointment online.
Prerequisites
There are no prerequired tutorials for this tutorial.
Related Resources

Voted 2015's best
Chiropractor in Lee's Summit
for Chiropractic treatment and services as reviewed by patients.
Verified by
Opencare.com