Yoga is so popular that practitioners have increased by 400% since 2001, which means that over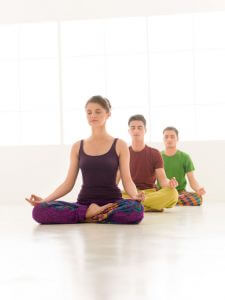 16.5 million people are trying to "get their omon." With many different styles of yoga available, it is important to determine your goals in pursuing this practice, which is both a set of exercises and a frame of mind. What is best for you is tied to your goals and to your physical condition.
Finding The Best Type Of Yoga For You
There are three questions that you should ask yourself before you begin yoga.
Are you taking yoga to help heal an injury or because you have a medical condition or physical limitation?
Do you want to get in shape as you explore the relationship between your mind and body?
Are you mainly interested in the spiritual and meditation aspects of yoga so that you can relax better?
Asking and finding an answer to these questions is very important as different types of yoga are intended for those with varying levels of physical conditioning. Yoga that is too intense for you because you are injured, pregnant, or out of shape may be uncomfortable or even undoable, while some forms present no challenges to a person in great shape who wants to maximize the exercise benefits.
Yoga Styles To Meet Your Goals
Since there are different types of yoga, there are styles that will meet whatever goals you have. Most types will help you improve strength, flexibility, and balance, so it depends on whether you want to move beyond these outcomes.
Are you beginner? Hatha yoga might be for you. You do straightforward poses, often with the help of props such as straps or blocks. In the process, you get your body correctly aligned, and your mind more focused. You will learn to breathe correctly and have a calmer approach to life which helps you to recover from everyday stresses.
Are you feeling pain and stress? Yin yoga concentrates on slow poses and deeper stretches, accompanied by music, chanting, and an emphasis on chakras or spiritual energy.
Are you an accident waiting to happen or already suffering from an injury? By focusing on poses that are less likely to cause injuries and on the props you might need to make the movements less strenuous, slower paced Iyengar yoga, as well as Kripalu and Viniyoga, can be the place to start.
Are you ready for a serious workout? Ashtanga and Power Yoga are vigorous enough to help you burn 500 calories an hour and suffice as your cardio and strength training workout for the day. There might be some chanting but little spiritual emphasis. You might also like Bikram, which incorporates heat into the regimen.
Finding The Best Class
After you decide what type of yoga is the best for you, you need to find a good teacher. Yoga classes can be offered anywhere, but make sure that the teacher has a 200-hour certification from the Yoga Alliance, a major yoga education group in the U.S. Yoga studios have properly certified, experienced people, where is gyms often have teachers that are certified but not very experienced. Rec centers who teach fitness classes may lack both experience and certification.
If you are managing injuries, your chiropractic office may be your best location for classes or source for referrals to the best place. Ask Raintree Medical and Chiropractic Center for periodic yoga offerings. For information or to schedule an appointment, call 816-623-3020.
Prerequisites
There are no prerequired tutorials for this tutorial.
Related Resources

Voted 2015's best
Chiropractor in Lee's Summit
for Chiropractic treatment and services as reviewed by patients.
Verified by
Opencare.com