Can Children Be Treated By Chiropractors?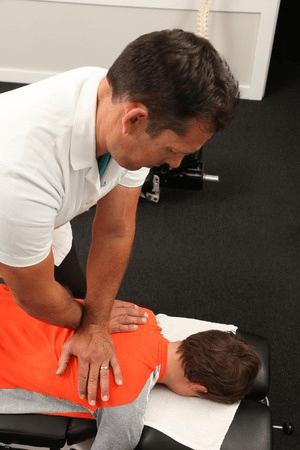 Over the last 20 years, chiropractic treatment has been emerging as a way to treat children with conditions ranging from back and neck pain, to asthma, nursing difficulties, colic, bedwetting, and chronic ear infections. Considered a wellness tool, chiropractic techniques are recognized by both the American Academy of Pediatrics and the American Chiropractic Associations Council on Chiropractic Pediatrics and the Council of Chiropractic Pediatrics of the International Chiropractors Association, as the most common alternative medicine practice used for children and the one most complementary to traditional treatments.
Chiropractic Principles And Children
One basic tenet of chiropractic is that most people suffer from spinal nerve stress known as subluxation. Children can feel stress in the womb by lying in a distorted or twisted manner, during the birth process when the skull, spinal cord or pelvis is twisted, and through childhood falls, emotional distress, and toxins. The stresses can lead to improper functioning of the nervous system and serious problems as the child grows that are often manifested as other conditions. Chiropractic treatments can gently adjust the child's spine to treat the results of stress and provide relief for subluxations that interfere with the body's ability to heal.
There are three major things to realize about a chiropractor's approach to treating children:
Any spinal adjustments respect the developing condition of the child's spine.
Chiropractic treatments do not presume to treat or cure sickness or disease.
The process does not use drugs. 
Where Chiropractic Is Effective 
Aside from treatment of neck and back pain, chiropractors have reported many cases of improved health in their in patients as a result of regular treatment. For example:
An 8-year-old patient has not had a cold since grade school, while a two-year-old who receives regular adjustments has short-term cases of fever that dissipate within a short time of receiving another adjustment.
A five-year-old asthma patient now gets only occasional less severe attacks.
A 12-year-old with autism who had developmental delays increases speech capacity and became more functional after receiving chiropractic treatment.
Children with chronic ear infections benefit from chiropractic treatment as the process promotes drainage and fluid buildup, especially in viral infections that do not respond to antibiotics
As a result of receiving chiropractic treatments, the immune system works more efficiently so the body has more resistance to disease once the nervous system is free of spinal stress. This enables the body to fight off additional stress inducers, such as environmental toxins, negative emotions, and physical stress. In addition, the body can function at a higher level through a program of regular adjustments, proper nutrition, exercise and posture.
Getting The Medical Community On Board
Many members of the conventional medical community are still skeptical of the chiropractic approach, as they doubt the existence of subluxations and decry the lack of systematic research. Much of traditional medicine is advanced through controlled clinical trials, rather than anecdotal evidence that chiropractors may offer to show that their treatment is effective. In addition, some chiropractors consider vaccines toxic, so support parental choice for vaccinating their children – a position that many doctors dispute.
Despite skepticism in some corners, chiropractic for children is gaining acceptance. In many settings, chiropractics work in conjunction with orthopedic doctors and other professionals to enhance patient wellness. Even the esteemed Cleveland Clinic Foundation has chiropractic treatment in its offerings. Dr. Andrew Bain, a practicing chiropractor with the Clinic, states, "Chiropractic is safe and effective for children. We tried everything, including conditions related to falls, heavy backpacks, and spending too much time on the iPhone. Neck pain is increasingly more common in children due to less participation in physical activity and more in technological gadgets. Chiropractic adjustments are gentle and appropriate for all ages."
Bring Your Child To Raintree Medical and Chiropractic Center
Are you wondering whether your child would benefit from chiropractic care, either because of a soft tissue injury, back or muscle pain, or a pattern of illness? We invite you to make an appointment at our facility to discuss your child's health with our staff, which includes a renowned specialist in prenatal and pediatric care. Call Raintree Medical and Chiropractic Center today at 816-623-3020 for your appointment.
Prerequisites
There are no prerequired tutorials for this tutorial.
Related Resources

Voted 2015's best
Chiropractor in Lee's Summit
for Chiropractic treatment and services as reviewed by patients.
Verified by
Opencare.com