Exercises Recommended For Athletes With Injuries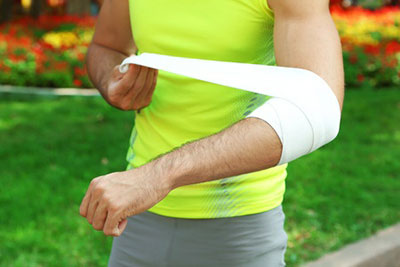 No athlete likes to get hurt. Not only are you in pain, but you are out of the game until you heal. If you don't take the proper steps to heal, you can jeopardize your ability to play for the long run. Proper exercise and rehabilitation are necessary, while lying around nursing your injury will prolong the time you are out of the game.
Stages Of Rehabilitation Exercise
Among the most common sports injuries are strains and sprains, knee injuries, shin splints, fractures, and dislocations that can result from accidents on the field or even overuse of any part of the body. Exercise programs designed for rehabilitation usually have three phases:
The acute phase, right after the injury or accident, aims to reduce pain.
The intermediate phase, after help has commenced, works to regain normal movement and strength.
The functional phase, before the athlete resumes playing, focuses on sports-specific activities.
Whether you are an amateur or a professional, you should seek out a qualified and professional sports rehabilitation program. 
Main Types Of Exercise For Athletes
 The most common techniques for rehabilitation of any injured body part typically include these types of exercise:
Stretching
Free weight exercises with weights or dumbbells
Resistance bands
Swiss gym ball
Foam roller exercise
Bodyweight exercises
Pilates exercises to develop and improve core strength
Plyometric exercises, such as jumping or bounding
Resistance machine exercises with equipment
Variations on these type of exercises can work for any part of the rehab process. Since exercise plays a role in mobility, strengthening, and preventing injuries, many of the techniques mentioned below are part of a good daily workout.
Exercises For Acute, Healing, And Final Stages Of Rehab
While some examples follow, you should see a professional at Raintree Medical and Chiropractic Center for an assessment of your injury and a specific program of exercise, treatments, and massage to facilitate you healing.
Some examples of exercise for different parts of the body include:
Ankle 
Acute: Toe raises, heel toe balance, isometric inversion and eversion (turning ankle inward and outward) or work with bands to do plantar or dorsi flexions or seated calf raises.
Healing: Calf raises and heel drops on steps, resistance ban inversions, proprioception exercises on balance board.
Final: Heel drops, step aback, catching the medicine ball, jumping with resistance band.
Knee, thigh, and hamstring 
Acute: Assisted knee flexion, knee flexion or extension while sitting, sit to stand, heel slides.
Healing: Wall squats, standing hamstring curls, knee extensions with bands, straight leg ball pickup.
Final: Lunges, lunges with ball, lunges on step.
Hip and groin 
Acute: Reverse straight leg raises, isometric hip extensions, hip extensions on all fours.
Healing: Hip extensions with bands, hip adduction with band, hip raises.
Final: Alternate leg hop extension, wide leg squats, walking abduction with band.
Back – any level 
Bend over row, dorsal raise, good morning (bowing), dumbbell pullover, resistance band pullover, swiss ball back extension.
Shoulder – there are also specific exercises for different injuries such as rotator cuff, frozen shoulder, dislocation, impingement syndrome 
Acute: Pendulum exercises, isometric shoulder exercise, pole mobility, scapular squeeze.
Healing: Hands up/robbery shoulder exercise, lateral rotation while standing, push up against a wall
Final: Diagonal plan, chest pass, ball catches, hand-walking on stool or treadmill.
Arm and elbow – only do these if pain free 
Acute: Isometric triceps or biceps, tricep push downs, partner resistant triceps or biceps exercises.
Final: Band resistance tricep extension, tricep kickbacks with band, tricep dip on ball. 
Wrist and hand – only do these if pain free
Wrist: Stretching and extending wrist, wrist flexion, supinator stretch.
Fingers: Rubber band exercises, putty exercises. 
Call A Professional Before Starting To Exercise
If you have suffered a sports injury, make an appointment today at Raintree Medical and Chiropractic Center for assessment and a treatment plan that includes the right type of exercise to facilitate healing and get you back in the game.
Prerequisites
There are no prerequired tutorials for this tutorial.
Related Resources

Voted 2015's best
Chiropractor in Lee's Summit
for Chiropractic treatment and services as reviewed by patients.
Verified by
Opencare.com