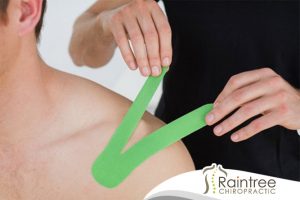 Playing sports at the amateur and professional level often leads to injury amidst victory and defeat. To get athletes back on the field quickly without compromising their health, chiropractors use sports rehabilitation for the musculoskeletal injuries common in sports.
Starting the Sports Rehabilitation Process
Whether sports injuries are sudden or acute or the reoccurrence of something that has been long-term and chronic, seeking professional chiropractic care is crucial to getting back on the field quickly. Chiropractors pay attention to the spine, joints, muscles, tendons, and nerves impacted by strains, sprains, tears, and breaks and aim to both help you recover from injury and help you prevent future injuries.
Your initial visit to Raintree Medical and Chiropractic Center will consist of a thorough examination and the formulation of a treatment plan based on the diagnosis. One of our chiropractic doctors will take your medical history and examine your reflexes, assess your ability to move the injured body part, and perform a physical, neurological, and orthopedic examination. When necessary, the examination will be followed by x-rays to help the doctor adequately determine your condition.
Though customized to your particular needs, the chiropractic treatment plan may include joint manipulation and manual therapy to the muscles, adjustments to joints or the spine, stretching, massage, cold laser, electric and heat modalities. During the first visit, you can expect the doctor to begin the treatment.
Fundamentals of Sports Rehabilitation
Chiropractic philosophy says that all pieces of the musculoskeletal system must work in harmony. While our chiropractic physicians aim to reduce your immediate pain, our focus is on total body wellness and achieving optimal functioning. We realize that sports are based on movement, so our goal is to restore you to a state where you can perform efficiently and without pain.
Exercise to regain strength and flexibility is an important part of your treatment plan. An exercise plan developed in the sports rehabilitation process will include exercises to areas of the body adjacent to the injury, as well as conditioning exercises for the whole body. During the rehabilitation period, it is important for you to engage in aerobic exercise so that when the injured area is healed, you are ready to get back into play.
The Stages of Sports Rehabilitation
Reestablishing range of motion
Improving strength
Improving coordination
Returning to the sport

 
The first three "stages" do not occur in chronological order as exercises to promote healing and body conditioning often start concurrently with treatment. Your chiropractor will monitor range of motion of the injured area as you engage in aerobic, strengthening, and flexibility exercises.
Once the pain related to the injury has subsided and the injured body part has healed, we will help you get ready for a gradual return to full training. At this point, rehabilitation program includes proprioceptive training to coordinate balance injuring positioning. This training is both appropriate to the sport and progressive so as not to lead to reinjury.
By utilizing a full range of treatment strategies, the professionals at Raintree Medical and Chiropractic Center can help you recover faster and even perform better. If you have suffered a sports injury, call us today at 816-623-3020 to schedule a consultation.
Prerequisites
There are no prerequired tutorials for this tutorial.
Related Resources

Voted 2015's best
Chiropractor in Lee's Summit
for Chiropractic treatment and services as reviewed by patients.
Verified by
Opencare.com