Chiropractic treatment can heal many ailments, but it is important to find the right professional who advocates general wellness along with treating pain.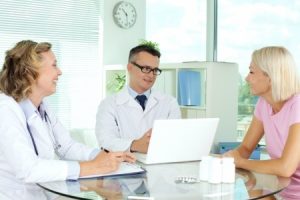 Start The Old Fashioned Way With A Referral
As is true when you are finding any doctor, asking friends and relatives for recommendations is a good place to start. You can also check online directories. In either case, when you get a name or a recommendation, check out the website to learn more about their practice. Most medical professionals state their philosophy as well as their treatment techniques and services on the website.
When you interview the potential chiropractor, there are certain questions you should ask, and certain red flags that could indicate he or she isn't the right physician for you.
What You Should Ask
"What techniques do you use?"A chiropractor primarily does his or her work by manipulating your skeletal system. Some doctors may stress "popping" joints back into place, while others use techniques that rely on less force. You may find that you prefer one or the other, but you will not know until you have experienced different approaches. For this reason, you should ask about the techniques that the chiropractor uses. The role of a good professional is not to "sell" you on a particular technique, but to find something that works for you, so you want someone who is willing and able to offer multiple techniques. You should also find out whether the doctor uses his or her hands, devices such as instruments and tables, or a combination of both.
"What other services are offered onsite?" Since many chiropractors focus on overall wellness and stress the importance of a healthy lifestyle, you should ask what other services are available onsite. Comprehensive practices, such as Raintree Medical & Chiropractic Center, also offer primary medical care because they recognize that not all illnesses result from musculoskeletal issues. Services such as massage, physical therapy, acupuncture, and nutritional counseling might also be recommended as part of your treatment plan, and some chiropractors offer these services onsite.
Red Flags To Look Out For
Chiropractors operate on the principle that many problems in the body result from misalignments that occur as a result of normal activity and aging, as well as from trauma to the body from car accidents, sports injuries, and even tripping and falling. When a chiropractor starts talking about the need to check you and your entire family for subluxations, or is overly insistent that his or her proprietary techniques can cure any disease, you should be suspicious that the doctor is more concerned about profits than your health and best interest.
Although chiropractic has shown itself to be effective in lessening the symptoms of asthma, diabetes, and other chronic conditions, it cannot cure these things. You should also be wary of physicians who espouse other controversial positions such as advocating against vaccinating your children, over-prescribing full spinal x-rays, or bypassing care from a medical doctor.
The chiropractor you want to find is one who will approach your condition as any other doctor would by first obtaining your complete health history, doing appropriate testing, and then offering a diagnosis and treatment plan.For a chiropractor you can trust to utilize a variety of helpful techniques to relieve your pain, contact Raintree Medical &Chiropractic Center at 816-623-3020 or request an appointment online.
Prerequisites
There are no prerequired tutorials for this tutorial.
Related Resources

Voted 2015's best
Chiropractor in Lee's Summit
for Chiropractic treatment and services as reviewed by patients.
Verified by
Opencare.com