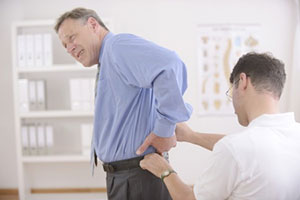 Common Conditions Treated By Chiropractors
While neck pain and back pain are among the top two reasons that people seek chiropractic care, there are may other common ailments that are treated by chiropractors.
 10 Common Conditions Addressed By Chiropractic Treatment
Back pain always tops the list. Chiropractic manipulation offers a degree of instant relief to those who suffer back pain. According to studies, after six months of chiropractic treatment, pain sufferers have the same amount of relief from chiropractors as conventional treatments offer, but the difference is they tend to feel more satisfied and have fewer side effects. Even Consumers Reports praised chiropractic techniques as the number one solution to lower back pain.
Neck pain is a close second for why people visit the chiropractor. Whether they suffer from acute or chronic pain, the manipulations and alignments received with chiropractic treatments often prove more effective than drugs, while offering the patient more control over their own recovery.
Numbness, tingling, or pain in an extremity, is often the result of sciatica or cervical radiculopathy. By removing pressure on the nerves, chiropractic treatment addresses the cause of the problem, instead of performing risky and often unnecessary surgery, or simply masking symptoms with drugs.
Headaches, considered "common," but not "normal," indicate excessive strain on the nervous system, which can be relieved by chiropractic treatments. Removing pressure on nerves often makes the whole body feel better.
Easier pregnancy and shorter labor often result from regular chiropractic care. Prior to delivery, pregnant women receiving treatments report less back pain, heartburn, and circulation problems.
Better range of motion, which results from achieving better balance of the musculoskeletal system, is a great benefit for athletes (and anyone else) who wants to stay flexible, perform at high levels, reduce injuries, and recover more quickly afterward.
Children's health issues, ranging from ear infections, colic and acid reflux, to autism, asthma, ADD, ADHD, show improvement from removing interferences in the central nervous system.
Menstrual problems, infertility, and menopausal issues improve under chiropractic care, which may give insight as to why 80% of chiropractic patients are female.
Allergy, infections, and sinus relief results from chiropractic treatment, which improves the efficiency of the immune system and central nervous system, two factors impacting allergies.
Better overall functioning of the body results when the body is properly aligned and its central nervous system functions properly.
Even More Ways A Chiropractor Can Improve Your Quality Of Life
In addition to these 10 common conditions, chiropractic treatments can also help with arthritis, poor sleep, bad posture, fibromyalgia, scoliosis, tennis elbow, knee pain, and a host of other sports injuries, work injuries, and accidents. Through a combination of chiropractic adjustments, which may be accompanied by electronic muscle stimulation, laser therapies, and therapeutic massage, many patients find long-lasting relief and learn how to manage their pain or condition through ongoing stretches and exercises.
Why Chiropractic Is A "Popular" Treatment 
Over 30 million Americans turn to chiropractic treatment each year, and practitioners are the third largest group of professionals who treat patients directly, after doctors and dentists. The reasons are clear:
It is effective, which is bringing it more into the mainstream of medical treatments
It is cost-effective
It is a safe, noninvasive treatment that does not involve the use of pharmaceuticals
It impacts the source of pain, not the symptoms
It is an effective tool for overall health and wellness
At Raintree Medical and Chiropractic Center, we help ease back and muscle pain, but offer many other services for comprehensive care and an improved quality of life.
For more information about our services, contact Raintree Medical and Chiropractic Center today at 816-623-3020 or request an appointment online.
Prerequisites
There are no prerequired tutorials for this tutorial.
Related Resources

Voted 2015's best
Chiropractor in Lee's Summit
for Chiropractic treatment and services as reviewed by patients.
Verified by
Opencare.com