When muscles tighten, the knot that forms is called a trigger point.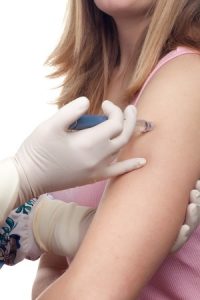 Trigger point injection (TPI) of corticosteroids can effectively treat this painful mass of muscles and the nerves around them, which can cause pain at the site, or refer pain to a distant site in the body. Aside from pain, trigger points can lead to symptoms such as dizziness, sweating, urinary frequency, buckling of the knees, ringing in the ears, or tearing in the eyes.
Where Are The Trigger Points?
Identifying the exact location of trigger points is complex, as any of the 400 muscles of the body can develop pain or refer it elsewhere in the body. Some trigger points are considered active, as they cause pain, while others are latent and cause a decreased range of motion and weakness. Trigger points that are active can become latent and vice versa if a muscle is aggravated again.
Trigger point therapy can be used to treat muscle groups in the arms, legs, lower back, and other areas where a patient is feeling pain. A physician or chiropractor asks the patient where they are feeling pain and may press on the area to see if the pain is repeatable.
Administering TPI
Because some pain is referred from elsewhere, the practitioner may work on the presumed site of the pain, without affecting the source. When the needle causes a sharp pain or muscle twitching, he may determine he has found the source of the pain and may adjust the needle and inject the spot from a different angle. After the injection, the trigger point is inactivated, which alleviates the pain.
The practitioner often injects several sites in one visit and may repeat the procedure additional times. While a medication such as cortisone is often used in the injection, in some cases where the patient is allergic to a particular drug, just dry-needling the site without using medication can help to reduce pain.
Cortisone shots are used for conditions such as osteoarthritis, rheumatoid arthritis, tendinitis, and bursitis in addition to trigger points. They can also be used to treat tension headaches, fibromyalgia, and myofascial pain syndrome. For any of these conditions, other treatments to lessen pain include physical therapy, exercise, and massage.
Using TPI is not recommended for patients who are pregnant, who have local or systemic infections, are on steroids, have diabetes, or those who have a high risk of infection. The doctor will exercise care for those with bleeding disorders or anticoagulation problems.
Receiving TPI At Raintree Medical And Chiropractic Center
The chiropractors at Raintree Medical and Chiropractic Center specialize in treating the musculoskeletal system, and our primary care providers can provide traditional medical services; this makes going to a medical and chiropractic center a smart move for pain management. Through a variety of chiropractic techniques and TPI as necessary, it is often possible to get immediate relief from your pain.
At Raintree Medical and Chiropractic Center, our providers administer trigger point injection in all areas of the body, except in and around the spinal cord and ribs. For information about whether TPI might be right for you, contact Raintree Medical and Chiropractic Center today at 816-623-3020. You can also request a convenient appointment online.
Prerequisites
There are no prerequired tutorials for this tutorial.
Related Resources

Voted 2015's best
Chiropractor in Lee's Summit
for Chiropractic treatment and services as reviewed by patients.
Verified by
Opencare.com